Discovering Opportunities: November 2023 - February 2024
Continuous Interviewing - November 2023 Opportunity Mapping - January 2024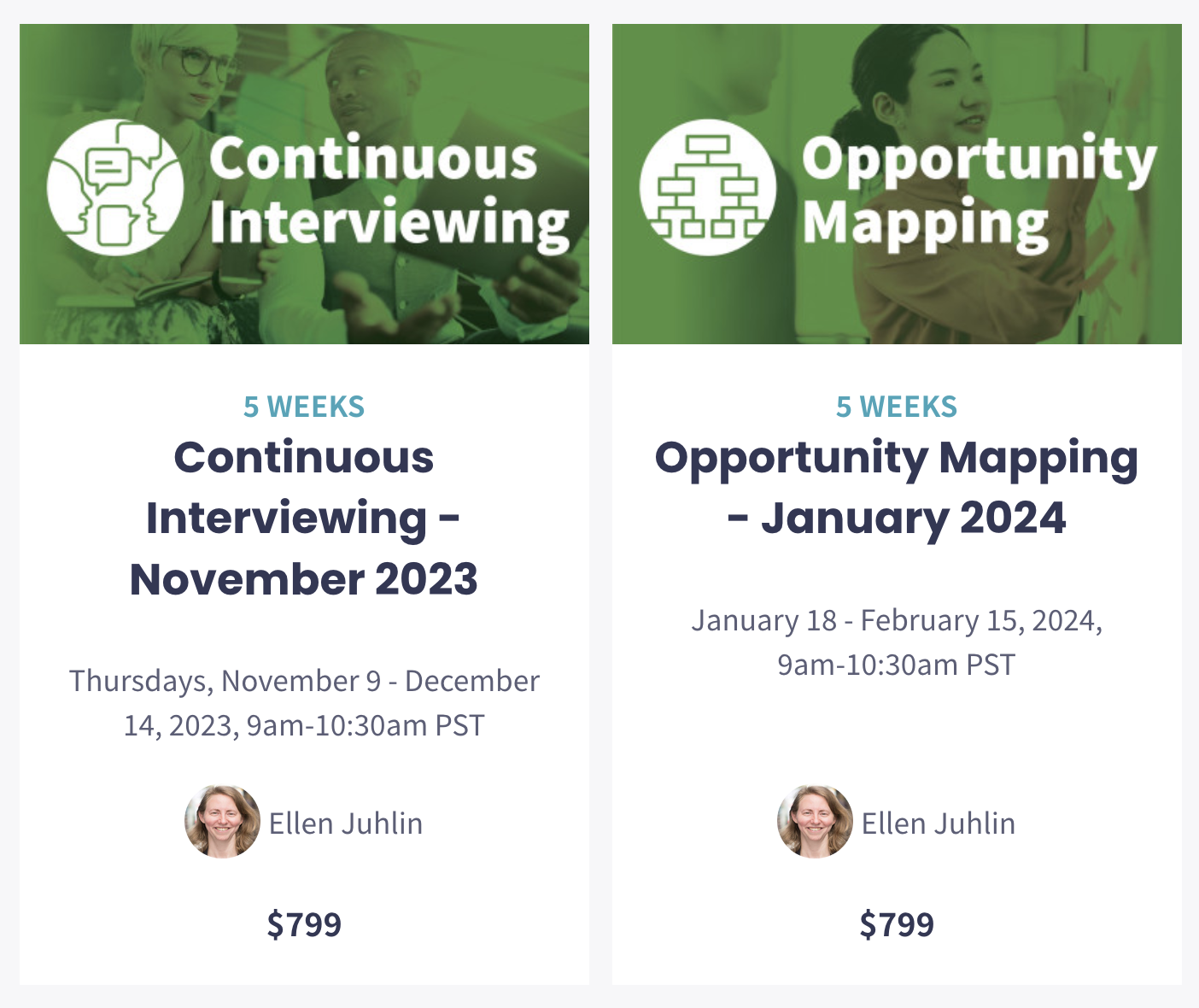 about this bundle

Buy 2 Courses and Save $250

Continuous Interviewing

In this course, you'll learn how to:
Ask the right questions
Listen better
Synthesize what you heard
Automate your recruiting process
Review the
course overview
and
course schedule
before enrolling.
Opportunity Mapping


In this course, you'll learn how to:
Design assumption tests
Define success upfront
Improve the reliability of your tests
Choose the right solutions.
Review the
course overview
and
course schedule
before enrolling.
Frequently asked questions
When do the courses meet?
Each course meets for five 90-minute live sessions. For specific dates and times for each cohort, click on the course schedule links above.

What is your refund policy?
We try to accommodate refund requests whenever possible. However, due to limited capacity, we cannot issue refunds within 14 days of the start date of the first course in the sequence.

If you are unable to attend the course and you missed the refund deadline, we do allow you to transfer your ticket to another student up until the day before the first course starts. We are not able to make any roster changes once the first course starts.
What if I can't make all the sessions?
Our live sessions are focused on hands-on practice with your team. Each session will build on the previous session. There will not be an opportunity to make up a missed session. We strongly recommend you reserve time on your calendar for all ten sessions.

However, we understand that things do come up. Because we follow a "flipped classroom" model (see description on each course overview page), if you miss a class session, you won't miss any of the instructional content. Instead, you'll miss out on the hands-on practice associated with each lesson. We recommend that you connect with your team after class to catch up on what you missed.

What's required of me in between sessions?
Each week, you will have 1-2 hours of homework to complete on your own time. It will be difficult to participate in the live session, if you don't do your homework. We strongly recommend that you reserve this time on your calendar now.

The cohorts I want are closed for enrollment. Is there a wait list?

Our cohorts sell out quickly. We rarely have cancellations, but when we do, we offer any open spots to students in the subsequent cohort in the order in which they purchased their ticket. So the best way to get on the waiting list is to purchase a ticket for the next available cohort.

How long do I have access to the instructional content?

You'll have access to each course's instructional content for 3-months starting from each course's start date.
Discovering Opportunities: November 2023 - February 2024
Get 2 Deep Dive courses and save!