Lesson series
Back to All Courses
Master Class:
Continuous Discovery Habits

Get introduced to the habits of a high-performing product team.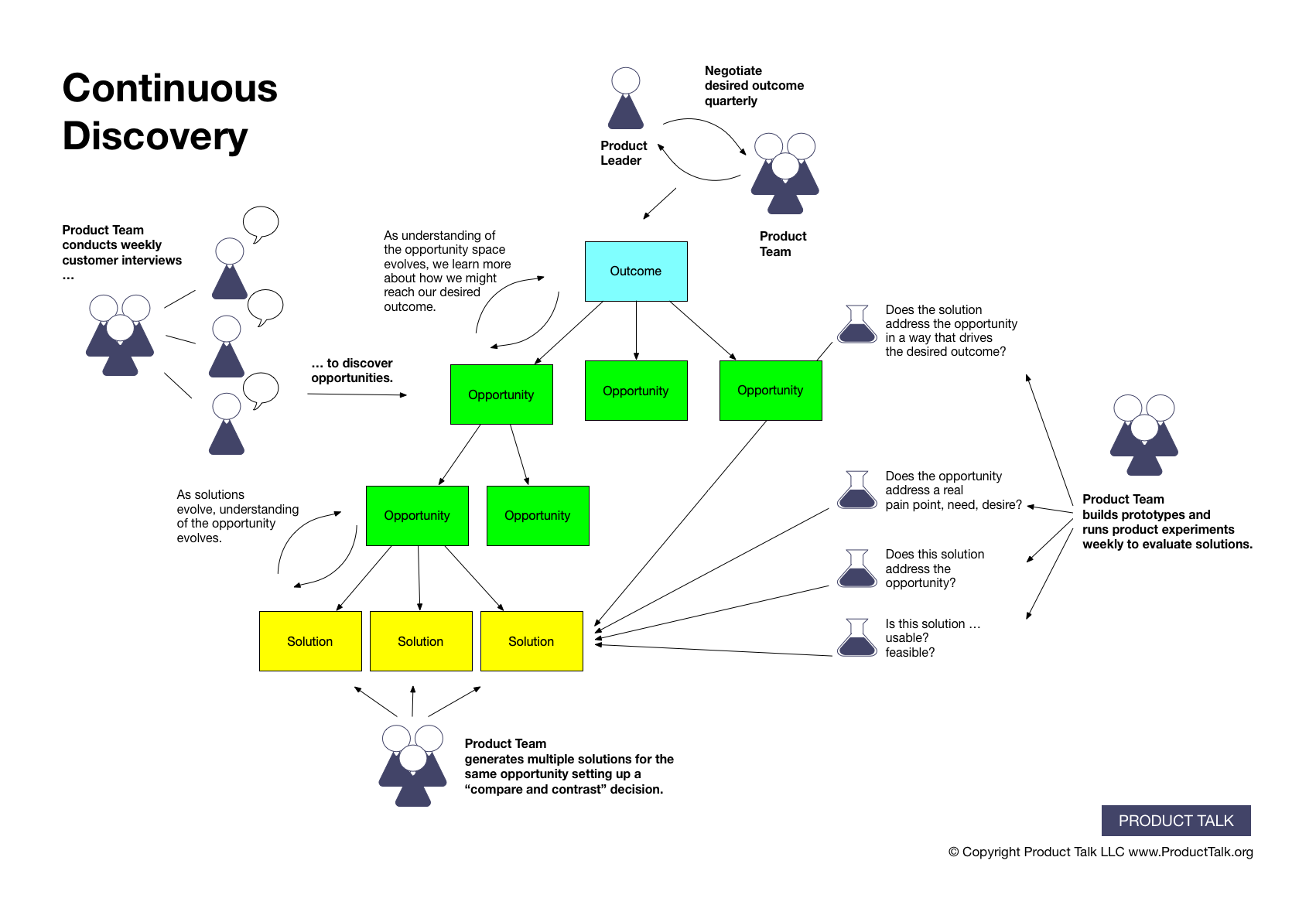 Overview
In this course, you'll get introduced to:

Defining Clear Outcomes

Good discovery starts with a clear outcome. Outcomes set the scope of our work.

Continuous Interviewing

Discover unmet customer needs, pain points, and desires.

Opportunity Mapping

Get a big-picture view of the best way to reach your outcome.

Effective Ideation

Generate multiple good solutions unlocking the power of compare and contrast decisions.

Identifying Hidden Assumptions

Deconstruct ideas into their underlying assumptions.

Assumption Testing

Determine which ideas will work and which won't.

Upcoming cohorts

Choose the cohort that best fits your schedule.

\Learnworlds\Codeneurons\Pages\ZoneRenderers\CourseCards
What's Included

How the Course Works

Get introduced to a structured and sustainable approach to continuous discovery.

Six 2-Hour Live Sessions (via Zoom)

Includes live instruction, small-group activities, and full-group discussion.

Real-World Case Study

You'll learn by doing, applying each lesson to a real-world case study.

Videos of All Instruction

Revisit any of the instructional content during your 3-month license.

Connect with Peers

Get access to our private community for practitioners putting the discovery habits into practice.

"I feel like I got let in on a secret that great product managers all practice. Teresa broke things down and uses mapping in incredibly insightful ways!"
Cameron Westland
CTO
Delphia

Do it! I got so much out of this course, the only thing I'd change is that I wish I'd done it sooner.

Tanya Ocker
Product Manager
Activated Insights

I was able to take what I learned and immediately put it into practice and am already seeing benefits from it. Doing the process from start to finish is well worth it.
Evan Bowers
Senior Product Designer
Zapier

Frequently asked questions
When does the course meet?
We meet for 2-hour live sessions (via Zoom) each week for six weeks in a row. For specific dates and times for each cohort, select a cohort in the "
Choose a Cohort
" section.
What is your refund policy?
We try to accommodate refund requests whenever possible. However, due to limited capacity, we cannot issue refunds within 14 days of the start date of the course.

If you are unable to attend the course and you missed the refund deadline, we do allow you to transfer your ticket to another student up until the day before the course starts. We are not able to make any roster changes once the course starts.
What if I can't make all the sessions?
Each session will build on the previous session. These are live sessions that will combine real-time group activities as well as discussions led by your instructor. There will not be an opportunity to make up a missed session. We strongly recommend you reserve time on your calendar for all six sessions. However, if something comes up and you are not able to make a session, you can still participate in the remaining sessions.
What's required of me in between sessions?
Each week, during our lives sessions, we'll apply a new lesson to a case study. In between sessions, we strongly encourage you to apply what you are learning to your own work. You can spend as much or as little time as you have on this. We'll ask you each week about your progress, but if you have limited time, it won't impede your progress in the course.
The cohort I want is closed for enrollment. Is there a wait list?

Our cohorts sell out quickly. We rarely have cancellations, but when we do, we offer any open spots to students in the subsequent cohort in the order in which they purchased their ticket. So the best way to get on the waiting list is to purchase a ticket for the next available cohort.

How long do I have access to the instructional content?
You'll have access to all of the instructional content for 3-months starting from the course kick-off.